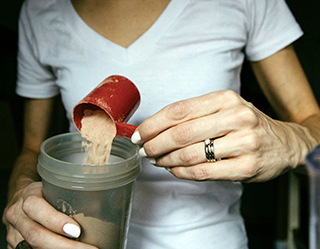 Your Serve!
No its not a tennis reference! I thought I'd break down the fairly complex topic of protein portion size due to the number of queries we've received.
When it comes to ezy protein, the suggested protein portion size is 1 (or more) scoops or 2 rounded tablespoons. Combine the powder with water, rice milk or your favourite beverage. That's pretty vague, and it has to be. Everyone is different and with unique needs. Without knowing your personal circumstances we can only give you guidelines. You'll struggle to find more than a basic serve description on ANY protein powder label on the market.
To push the point: my personal protein requirement at 100KG is to maintain muscle mass whilst exercising 2 hours daily. That's VERY different to my 60KG wife who walks the dog in the mornings and uses ezy protein to support fat loss. One scoop is not enough for me, and it's probably way too much for her!
Fitness level, activity and body composition goals are key factors that determine protein supplementation requirements. Meal frequency, caloric mix and food quality are also variables. All these should be taken into consideration before determining an appropriate dosage. There are also individual volume and type of liquid preferences, and the consumed caloric/protein make-up. Not to mention any additional ingredients blended with the mixture such as fruits, nuts, and seeds.
Please note too that the right number is never fixed for life. Protein portion size will change with requirements over time. You'll get more (or less) fit, more (or less) active, and you consume more (or less) food.
There is absolutely no "one size fits all" approach to refer to. The term "Suggested Use" may or may not be helpful at all.

There is a science to it.
To get more accurate in this space, we suggest you research the topic (step 4 of "Learn – be the best you can be"). You can do this easily on-line or by taking advice from a practitioner. Personal trainers and nutritionists are particularly handy in this space. One thing I strongly recommend is that people with health issues or concerns should consult a professional.
To offer a more scientific perspective: it is worthwhile understanding your BMI (Body Mass Index) and your BMR (Basal Metabolic Rate) to assess your protein requirements against your situation and goals. You can then cross reference against Dietary Reference Intakes (DRIs). These are a set of reference values used to plan and assess the nutrient intakes of healthy people.
The DRI that I use for protein is @ 0.8 grams of protein per kilogram of body weight, or 0.36 grams per pound of body weight. This amounts to: 56 grams per day for the average sedentary man, and 46 grams per day for the average sedentary woman. The big problem here is that we aren't all "average", and hence the need to dive a little deeper.
If you search online for "protein intake activity" you will find many articles on the topic, including tables that give you more accurate calculations to work with. You'll note also that many guidelines are ONLY taking protein into consideration. You'll need to take into account your total caloric intake as well as your proportionate mix of protein vs. fat vs. carbohydrate.
If you are really serious about it you can always ask an expert to work up a dietary plan just for you.
Options:
You certainly can go for 1 scoop or 2 rounded tablespoons in volume to taste. I usually have my ezyprotein in 250mls or about 1 cup of cold water or almond milk. If you have a blender you can easily increase calories, carbs and nutrition with frozen fruit like banana, mango or strawberries – this also helps if you like your drink a bit thicker too! You can even combine your protein volume into Overnight Oats, pancakes, protein balls, even soups and curries (using ezy protein Natural).
Or:
Utilise a more scientific approach by learning about the previously mentioned acronyms and their applications. I found some great micro scales that I used to weigh the right protein amount for me. Once you weigh your protein powder a few times you work out pretty quickly how much that translates to in tablespoons or teaspoons. Remember to retake the calculations every 4-6 months or so because your protein portion size will change as much as you do!
Finally, we do not recommend using ezy protein for ALL of your daily protein requirements – a well balanced mix of wholefoods, fruits and vegetables should be the default – not the exception. If you are eating at high daily frequency you could use ezyprotein to replace one or two meals.
Regarding the recipes (or lack of) on the site – you're right: they aren't yet here. We will be incorporating suggestions into a future update.
In the meantime I can certainly recommend Pinterest for smoothie recipes – a board like the awesome healthfoods one below will give you 70 different options that can be utilised with Protein Powder to enhance the drink – nutritionally as well as provide different textures and flavours……..
https://www.pinterest.com.au/awesomehealthfoods/awesome-smoothies/
 Wishing you good health and well-being!
DISCLAIMER: All content found on this Website is intended for informational purposes only. We undertake no liability for the accuracy of the information, and the content is not intended to be a substitute for professional medical advice, diagnosis, or treatment. 

 

Always seek the advice of a qualified health practitioner regarding a medical condition.
Ezy Protein is not responsible for claims made on external websites and l
inks to educational (or any) content not created by Ezy Protein are taken at the user's risk. R
eliance upon any information provided by Ezy Protein, it's employees, contracted writers, or medical professionals presenting content for publication to Ezy Protein is solely at the readers risk.